Chuck Connors' Death
Born (Birthday) April 10, 1921
Death Date November 10, 1992
Age of Death 71 years
Cause of Death Pneumonia
Place of Death Cedars-Sinai Medical Records Office, Los Angeles, California, United States
Place of Burial San Fernando Mission Catholic Cemetery, Los Angeles, California, United States
Profession TV Actor
The tv actor Chuck Connors died at the age of 71. Here is all you want to know, and more!
Biography - A Short Wiki
Actor who played the role of frontiersman Lucas McCain on The Rifleman, a role that severely typecast him for other TV roles.
He married and divorced twice before marrying Elizabeth Riddell in 1948. He had four sons: Jeff, Kevin, Steve, and Mike.
How did Chuck Connor die?
Connors started smoking heavily in 1940. He smoked three packs of Camel cigarettes a day until he quit in the mid-1970s, though he occasionally smoked afterward. On November 10, 1992, he died at Cedars-Sinai Medical Center in Los Angeles at the age of 71 of pneumonia stemming from lung cancer. At the time of his death, his companion was Rose Mary Grumley.
Where is Chuck Conner buried?
He is buried in the San Fernando Mission Cemetery in Los Angeles.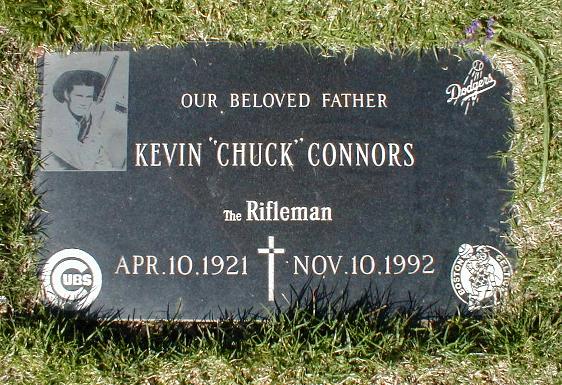 Quotes
"

"If you're ever being typecasted – as most of us are – that's a great way to be typecasted. So, 'The Rifleman' is still popular with a lot of people, and I'm proud to be associated."

Chuck Connors
"

"I owe baseball all that I have and much of what I hope to have. Baseball made my entrance to the film industry immeasurably easier than I could have made it alone. To the greatest game in the world I shall be eternally in debt."

Chuck Connors
"

"I wasn't a bad basketball player, but I was far from the world's greatest. Good defense, no offense – that was me."

Chuck Connors
"

"The day I left baseball, I became smart. When I was in baseball, I played for the love of the game. I'd sign any contract they gave me. But then I stopped playing and began doing interviews with the players at the ball park. I began to see the light."

Chuck Connors
"

"I can never get rid of 'The Rifleman,' and I don't want to. It's a good image."

Chuck Connors