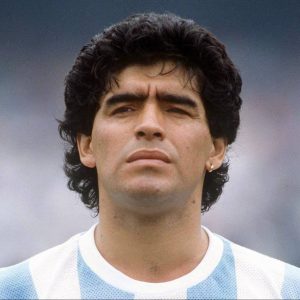 Diego Maradona's Death
Born (Birthday) October 30, 1960
Death Date November 25, 2020
Age of Death 60 years
Cause of Death Heart Failure
Place of Death Tigre, Argentina
Place of Burial Bella Vista cemetery, Buenos Aires, Argentina
Profession Football Player
Diego Armando Maradona was born on October 30, 1960 in the outskirts of Buenos Aires.  During his career, he made 91 appearances for Argentina, scoring 34 goals.  Furthermore, he played in four World Cup tournaments for his country.
How did Diego Maradona die?
A preliminary autopsy reportedly leaked to the Argentine press has revealed that Diego Maradona died of heart failure. The footballing legend passed away at his home in Tigre, in the province of Buenos Aires, at the age of 60 on Wednesday, with confirmation of the official autopsy results yet to be published.
Quotes
"

I am Maradona, who makes goals, who makes mistakes. I can take it all, I have shoulders big enough to fight with everybody.

Diego Maradona
"

Everybody in Argentina can remember 'the hand of God' in the England match in the 1986 World Cup. Now, in my country, the 'hand of God' has brought us an Argentinian pope.

Diego Maradona
"

My mother thinks I am the best. And I was raised to always believe what my mother tells me.

Diego Maradona
"

You can say a lot of things about me, but you can never say I don't take risks.

Diego Maradona
"

To see the ball, to run after it, makes me the happiest man in the world.

Diego Maradona