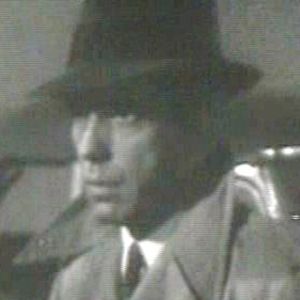 Humphrey Bogart's Death
Born (Birthday) December 25, 1899
Death Date January 14, 1957
Age of Death 57 years
Cause of Death Esophageal Cancer
Place of Death Los Angeles, California, United States
Place of Burial Forest Lawn, California, United States
Profession Movie Actor
The movie actor Humphrey Bogart died at the age of 57. Here is all you want to know, and more!
Biography - A Short Wiki
Classic actor who played Rick Blaine in Casablanca and Sam Spade in The Maltese Falcon. Known as a cultural icon, the American Film Institute called him the greatest male star in cinema's history in 1999. His other film credits include The Big Sleep, The African Queen, Dark Passage, Key Largo, and The Treasure of the Sierra Madre.
Private life
He married his co-star and fourth wife, actress Lauren Bacall in 1945 and they remained together until his death. He was the father to two children. His father was Dr. Belmont Deforest Bogart, and his mother was Maud Humphrey. Bogart is the Dutch word for an orchard.
Death
Diagnose
In 1956 Bogart, a heavy drinker, and smoker, was diagnosed with esophageal cancer.
The actor was private about his health and only visited a doctor after considerable persuasion from his wife, Bacall.
Surgery failed to remove the cancerous growth, and Bogart died on January 14, 1957, at the age of 57. At the time of his death, he weighed only 36 kg.
Funeral
A funeral was held at All Saints Episcopal Church, with music by Bogart's favorite composers: Johann Sebastian Bach and Claude Debussy. In attendance were some of Hollywood's biggest stars: Audrey Hepburn, Bette Davis, Judy Garland, David Niven, Ronald Reagan, James Mason, and many more.
Burial
Bogart was cremated, and his ashes were interred in Forest Lawn Memorial Park's Columbarium of Eternal Light in its Garden of Memory in Glendale, California.
Quotes
"

"Things are never so bad they can't be made worse."

Humphrey Bogart
"

"I was born when you kissed me. I died when you left me. I lived a few weeks while you loved me."

Humphrey Bogart
"

"The problem with the world is that everyone is a few drinks behind."

Humphrey Bogart
"

"The only thing you owe the public is a good performance."

Humphrey Bogart
"

"You're not a star until they can spell your name in Karachi."

Humphrey Bogart