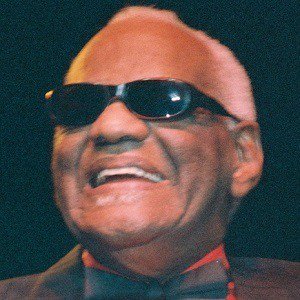 Ray Charles' Death
Born (Birthday) September 23, 1930
Death Date June 10, 2004
Age of Death 73 years
Cause of Death Alcohol-related Liver Disease
Place of Death Beverly Hills, California, United States
Place of Burial Inglewood Park Cemetery, Inglewood, California, United States
Profession Soul Singer
The soul singer Ray Charles died at the age of 73. Here is all you want to know, and more!
Biography - A Short Wiki
The Godfather of Soul Music who pioneered R&B and popular music with hits such as "Hit the Road Jack" and "Crying Time." He earned 17 Grammy Awards over the course of his long, successful career.
He married Eileen Williams on July 31, 1951 and, after their divorce in 1952, he married Della Beatrice Howard on April 5, 1955. He had a daughter named Alicia with an unknown woman. He had another daughter named Alexandra with Chantal Bertrand and a third child named Vincent with Arlette Kotchounian.
How did Ray Charles die?
In 2003, Charles had successful hip replacement surgery and planned to return on tour, until he began suffering from other ailments. He died at his home in Beverly Hills, California of complications resulting from liver failure, on June 10, 2004, at 73.
Funeral
His funeral occurred on June 18, 2004, at the First African Methodist Episcopal Church of Los Angeles with numerous musical figures in attendance. B.B. King, Glen Campbell, Stevie Wonder, and Wynton Marsalis each played a tribute at the funeral.
Where is Ray Charles buried?
He was interred in the Inglewood Park Cemetery.
Quotes
"

"With singing, the name of the game is to make yourself believable. When somebody hears you sing a song, and they say, 'Oh, that must have happened to him,' that's when you know you're transmitting. It's like being a good actor. You make people feel things, emotions and what not."

Ray Charles
"

"There are many spokes on the wheel of life. First, we're here to explore new possibilities."

Ray Charles
"

"I never wanted to be famous. I only wanted to be great."

Ray Charles
"

"People couldn't understand why my mama would have this blind kid out doing things like cutting wood for the fire. But her thing was: He may be blind, but he ain't stupid."

Ray Charles
"

"There's nothing written in the Bible, Old or New testament, that says, 'If you believe in Me, you ain't going to have no troubles.'"

Ray Charles