William Hopper's Death
Born (Birthday) January 26, 1915
Death Date March 6, 1970
Age of Death 55 years
Cause of Death Pneumonia
Place of Death Palm Springs, California, United States
Place of Burial Rose Hills Mortuary, California, United States
Profession Movie Actor
The movie actor William Hopper died at the age of 55. Here is all you want to know, and more!
Biography - A Short Wiki
'50s television icon who was immortalized for his role as Paul Drake on over 250 episodes of the series, Perry Mason. He played Natalie Wood's character's father in Rebel Without a Cause.
He married his second wife, Jeanette Hopper, in 1959. He had one child during his 19-year marriage to his first wife, Jane Gilbert, and his mother Hedda Hopper was a well-known Hollywood gossiper and journalist.
How did William Hopper die?
Hopper entered Desert Hospital in Palm Springs, California, on February 14, 1970, after suffering a stroke. He died of pneumonia three weeks later, on March 6, at age 55.
Where is William Hopper buried?
He was buried in Rose Hills Memorial Park in Whittier, California.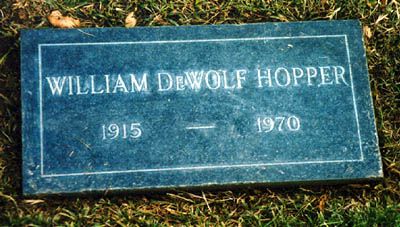 Quotes
"

A basket of kisses? Why, I'll give you a basket of hugs! (as Col. Kenneth Penmark in The Bad Seed)