The movie actor Jeffrey Hunter died at the relatively tender age of 42. Here is all you want to know, and more!
Biography - A Short Wiki
Prolific actor who played John Wayne's sidekick in The Searchers and Captain Christopher Pike in the pilot episode of Star Trek.
He was married to actress Barbara Rush from 1950 to 1955.
How did Jeffrey Hunter die?
While in Spain in November 1968 to film Cry Chicago (¡Viva América!), a story about the Chicago Mafia, Hunter was injured in an on-set explosion when a car window near him had been rigged to explode outward, accidentally exploded inward.
Hunter sustained a severe concussion. According to Hunter's wife Emily, he "went into shock" on the plane ride back to the United States after filming and "couldn't speak. He could hardly move." After landing, Hunter was taken to Good Samaritan Hospital in Los Angeles, but doctors could not find any severe injuries save for a displaced vertebra and a concussion.
On the afternoon of May 26, 1969, Hunter suffered an intracranial hemorrhage while walking down a three-stair set of steps at his home in Van Nuys, California. He fell, knocked over a planter, and struck his head on the railing, fracturing his skull. He was found unconscious by Frank Bellow, actor, and friend of Hunter, who came for a visit. He was taken to Valley Presbyterian Hospital, where he underwent brain surgery. He died at about 9:30 the following morning at the age of 42.
In an interview with E! Mysteries & Scandals, Jeffrey's son, Christopher Hunter, stated, "I think alcoholism contributed to his death as much as anything else."
Funeral and burial
Hunter's funeral was held at St Mark's Episcopal Church in Van Nuys on May 31. He was interred at Glen Haven Memorial Park in Sylmar, California.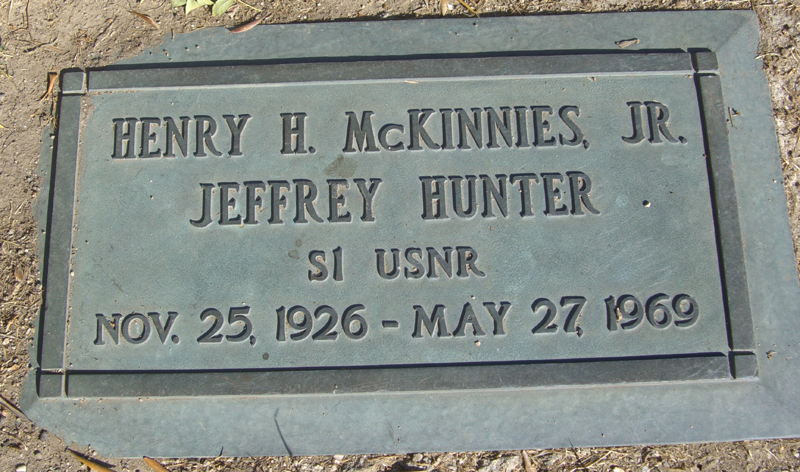 Quotes
"

"I love doing motion pictures and expect to be as busy as I want to be in them."

Jeffrey Hunter
"

"I was notified on July 17 to be ready to start August 7 for an October air date. When we reached the screen we did not have a single segment ready. It was done so fast the writers never got a chance to know what it was all about."

Jeffrey Hunter
"

"I was warned not to do it. Actors who play Jesus are supposed to have a hard time getting other roles to follow, but I felt this was a myth. After all, how can you be typecast as Christ?"

Jeffrey Hunter
"

"The idea of making pictures abroad is exciting when you're in Hollywood and have never worked in foreign countries. You think you'll get to see the sights and have all the fun that goes with traveling. Actually, you spend so much time on the job that you don't do much else."

Jeffrey Hunter
"

"There just aren't that many Jesus roles around."

Jeffrey Hunter