The movie actor Jeff Chandler died at the age of 42. Here is all you want to know, and more!
Biography - A Short Wiki
Silver-haired actor who portrayed Cochise in Broken Arrow. His role as Kurta in the 1949 film, Sword in the Desert, led to him accepting a long-term contract from Universal Studios.
He married actress Marjorie Hoshelle in 1946 and they separated in 1954. At the time of his death, Chandler was involved with British actress Barbara Shelley.
How did Jeff Chandler die?
On April 15, 1961, Chandler injured his back while working on the film Merrill's Marauders. The incident occurred when he played baseball with some of the film's extras (soldiers from U.S. Army Special Forces). To relieve his pain, he got some injections, which enabled him to finish the production.
Surgeries
A few critical surgeries ensued:
On May 13, 1961, Chandler had surgery for spinal disc herniation at Culver City hospital in California. Severe difficulties arose; an artery was damaged, and Chandler hemorrhaged.
On May 17, in a seven-and-a-half-hour emergency operation over-and-above the original surgery, he was given 55 pints of blood.
On May 27, he received yet another operation, where he received an additional 20 pints of blood.
The actor tragically passed away on June 17, 1961. The cause was a blood infection complicated by pneumonia.
Funeral
Tony Curtis and Gerald Mohr were among those who carried Chandler's casket at his funeral. More than 1,500 people attended the funeral.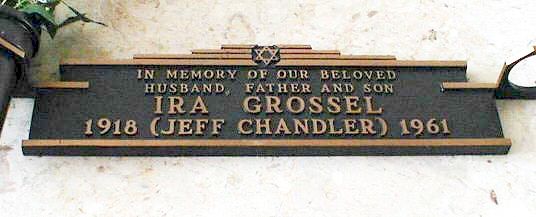 Controversy
An investigation followed Chandler's death. It was deemed malpractice and resulted in his children suing the hospital for $1.5 million.