Betty Grable's Death
Born (Birthday) December 18, 1916
Death Date July 2, 1973
Age of Death 56 years
Cause of Death Lung Cancer
Place of Death Santa Monica, California, United States
Place of Burial Inglewood Park Cemetery, Inglewood, California, United States
Profession Movie Actress
The movie actress Betty Grable died at the age of 56. Here is all you want to know, and more!
Biography - A Short Wiki
WWII pinup model and actress who attracted fame for her beautiful legs. As an actress, she is best known for her role in How to Marry a Millionaire, which also starred Marilyn Monroe.
Grable married Jackie Coogan, a former child actor, from 1937 to 1939. She married Harry James in 1943, and the couple had two daughters before divorcing in 1965.
Death
Grable was a lifelong heavy smoker and died of lung cancer on July 2, 1973, a year after her diagnosis. She died at the age of 56 in Santa Monica, California.
Her funeral occurred two days after her passing away, and both of her ex-husbands, Jackie Coogan and Harry James, attended. Many Hollywood stars came to the funeral as well. Among them were Dorothy Lamour, Shirley Booth, Mitzi Gaynor, Don Ameche, Cesar Romero, George Raft, Alice Faye, Johnnie Ray, and Dan Dailey. "I Had the Craziest Dream," the ballad from Springtime in the Rockies, was played on the church organ.
Final resting place
The actress was interred at Inglewood Park Cemetery in Inglewood, California.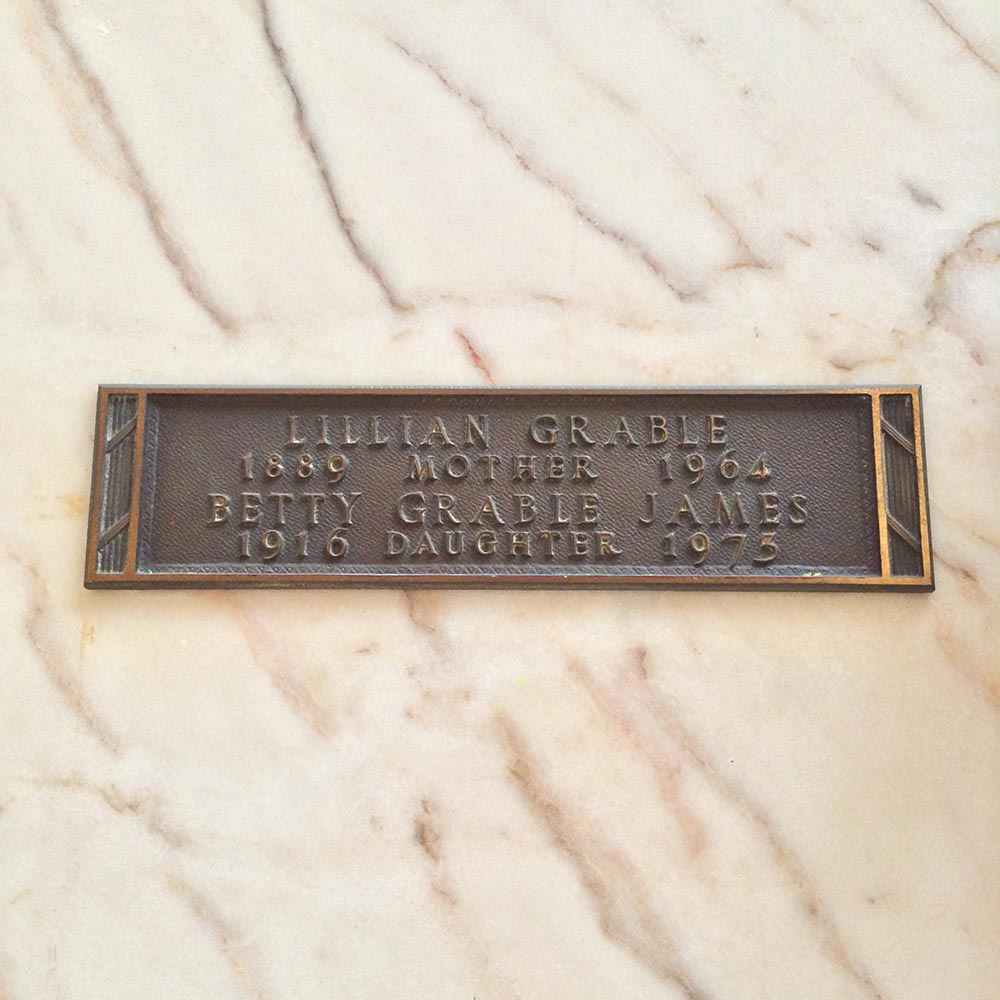 Quotes
"

"You're better off betting on a horse than betting on a man. A horse may not be able to hold you tight, but he doesn't wanna wander from the stable at night."

Betty Grable
"

"I'm a song and dance girl. I can act enough to get by. But that's the limit of my talents."

Betty Grable
"

"The practice of putting women on pedestals began to die out when it was discovered that they could give orders better from there."

Betty Grable
"

"I have got two reasons for success and I'm standing on both of them."

Betty Grable
"

"There are two reasons why I'm in show business, and I'm standing on both of them."

Betty Grable