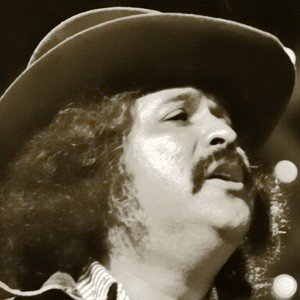 Freddy Fender's Death
Born (Birthday) June 4, 1937
Death Date October 14, 2006
Age of Death 69 years
Cause of Death Lung Cancer
Place of Death Corpus Christi, Texas, United States
Place of Burial San Benito Memorial Park, San Benito, Texas, United States
Profession World Music Singer
The world music singer Freddy Fender died at the age of 69. Here is all you want to know, and more!
Biography - A Short Wiki
Texas-based Tejano country singer who sang the 1970s singles "Before the Next Teardrop Falls" and "Wasted Days and Wasted Nights."
He was given a kidney by his daughter in 2002.
How did Freddy Fender die?
On March 13, 2001, Fender was erroneously reported to be dead by Billboard. He laughed off the magazine's error.
Nonetheless, his condition continued to worsen. He was suffering from an "incurable cancer" in which he had tumors on his lungs.
On December 31, 2005, Fender performed his last concert and resumed chemotherapy. On October 14, 2006, he died at 69 of lung cancer at his home in Corpus Christi, Texas, with his family at his bedside.
Where is Freddy Fender buried?
He was buried in his hometown of San Benito, Texas, United States.
Quotes
"

"I'm a romantic, and we romantics are more sensitive to the way people feel. We love more, and we hurt more. When we're hurt, we hurt for a long time."

Freddy Fender
"

"I was dreaming I was on the Sullivan Show."

Freddy Fender
"

"I was separated from my wife at the time. A lot of people think I wrote it about prison."

Freddy Fender
"

"I'm one year away from 70 and I've had a good run. I really believe I'm okay."

Freddy Fender
"

"In my mind and in my heart, I feel okay. I cannot complain that I haven't lived long enough, but I'd like to live longer."

Freddy Fender