John Garfield's Death
Born (Birthday) March 4, 1913
Death Date May 21, 1952
Age of Death 39 years
Cause of Death Heart Attack
Place of Death New York, New York, United States
Place of Burial Westchester Hills Cemetery-Stephen Wise Free Synagogue Cemetary, New York, United States
Profession Movie Actor
The movie actor John Garfield died at the age of 39. Here is all you want to know, and more!
Biography - A Short Wiki
He earned Best Actor Oscar nominations for his roles in 1947's Body and Soul and 1938's Four Daughters. His other notable films include Tortilla Flat and The Sea Wolf.
He had three children named Katherine, David and Julie with Roberta Seidman, whom he married in 1935.
How did John Garfield die?
On May 21, 1952, Garfield had dinner with actress Iris Whitney. After the dinner, he complained that he felt chilled and suddenly became ill. Iris took him to her apartment, where he went to bed, refusing to let Iris call a doctor. The morning after, Iris found him dead.
Heart problems were the cause of his death. He only reached the relatively tender age of 39.
Funeral
Garfield's funeral was one of the largest New York had seen since Italian actors Rudolph Valentino's. Over ten thousand people crowded the streets outside.
Where is John Garfield buried?
Garfield was interred at Westchester Hills Cemetery in Hastings-on-Hudson, Westchester County, New York.
The inscription on his footstone reads, "Beloved husband and father."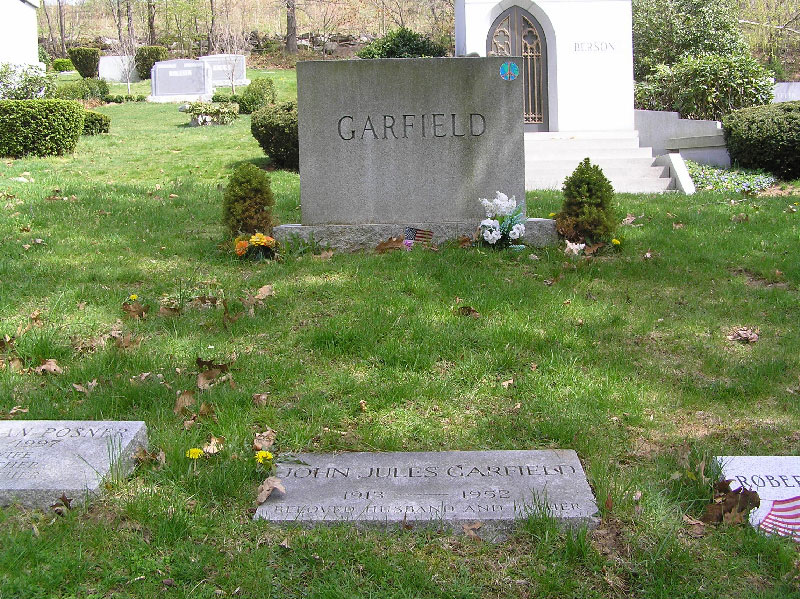 Quotes
"

"Reading is important." (John Garfield)
"

"I did a lot of jobs when I was a kid – paper boy, grocery boy, all those things. I guess maybe I got a point of view then." (John Garfield)
"

"I wanted the attention I missed at home, so I became the leader of a gang. That way, I got attention and was recognized as being important. It wasn't a bad gang – you know, in poor districts in New York, there's a gang to every block. We never robbed at the point of a gun; we'd steal potatoes from a grocery store, or crackers." (John Garfield)
"

"When I think back, the neighbors were always sayin', 'Oh, that poor Julie, that poor orphan.' I loved it. The Italians would invite me in for dinner – it was an Italian neighborhood mostly. Oh, I loved it." (John Garfield)
"

"To my surprise, I discovered that I could act, and I liked it even better than boxing." (John Garfield)