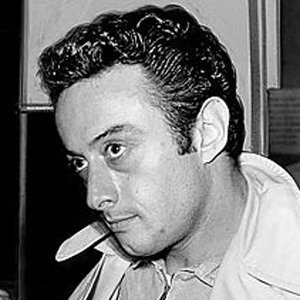 Lenny Bruce's Death
Born (Birthday) October 13, 1925
Death Date August 3, 1966
Age of Death 40 years
Cause of Death Drug Overdose
Place of Death Hollywood Hills, California, United States
Profession Comedian
The comedian Lenny Bruce, real name Leonard Alfred Schneider, died at the age of 40. Here is all you want to know, and more!
Biography - A Short Wiki
Legendary stand up comedian and social critic who became a counterculture icon after he was repeatedly arrested for obscenity. He was portrayed by Dustin Hoffman in the 1974 Bob Fosse film Lenny.
He had a daughter, Kitty, with his wife Honey Harlow, who was a stripper.
How did Lenny Bruce die?
On August 3, 1966, a bearded Bruce was found dead in the bathroom of his Hollywood Hills home at 8825 W. Hollywood Blvd. The official photo, taken at the scene, showed Bruce lying naked on the floor, a syringe and burned bottle cap nearby, along with various other narcotics paraphernalia. Record producer Phil Spector, a friend of Bruce, bought the negatives of the photographs "to keep them from the press." The official cause of death was "acute morphine poisoning caused by an overdose."
Where was Lenny Bruce buried?
Bruce's remains were interred in Eden Memorial Park Cemetery in Mission Hills, California.
Controversial memorial
It was a somewhat controversial memorial on August 21 which the cemetery officials tried to block. The reason being that advertisements for the event encouraged attendees to bring box lunches and noisemakers.
Over 500 people came to pay their respects, lead by his friend Phil Spector.
What is the epitaph on his grave?
His epitaph on his tombstone reads: "Beloved father – devoted son. Peace at last."
Quotes
"

"When you're eight years old nothing is your business." (Lenny Bruce)
"

"I'm not a comedian. And I'm not sick. The world is sick, and I'm the doctor. I'm a surgeon with a scalpel for false values." (Lenny Bruce)
"

"All my humor is based on destruction and despair. If the whole world were tranquil, without disease and violence, I'd be standing in the bread line – right in back of J. Edgar Hoover." (Lenny Bruce)
"

"Satire is tragedy plus time. You give it enough time, the public, the reviewers will allow you to satirize it. Which is rather ridiculous, when you think about it." (Lenny Bruce)
"

"The 'what should be' never did exist, but people keep trying to live up to it. There is no 'what should be,' there is only what is." (Lenny Bruce)